Work that fits around your life
Help us bring smile to customers and earn extra income on a flexible schedule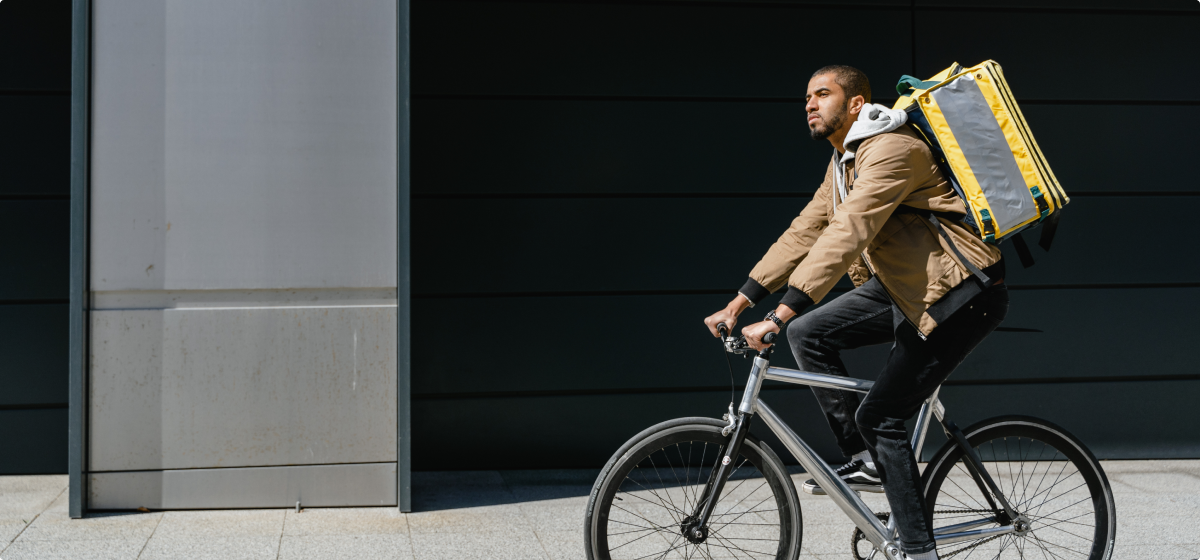 Apply Now
Our Rider Benefits
WORK WHEN YOU WANT
With no restrictive schedule or set hours, our drivers truly have the power to work when they want.
REACH YOUR EARNING GOALS
We offer competitive fees for each delivery you make. You can also boost your earnings with tips from customers.
FEEL SUPPORTED AND PEACE OF MIND
Our team supports Riders around the clock. We're here for you.
REACH YOUR EARNING GOALS
We offer competitive fees for each delivery you make. You can also boost your earnings with tips from customers.
REACH YOUR EARNING GOALS
We offer competitive fees for each delivery you make. You can also boost your earnings with tips from customers.
FEEL SUPPORTED AND PEACE OF MIND
Our team supports Riders around the clock. We're here for you.
Ready to join us as a rider?
Apply now!
Make sure you have your ID, driving licence (for scooter and car drivers) and proof of right to work.
Apply Now
What You Will Need
To Become A Rider
Scooter, bike or car (with licence and insurance)
Safety equipment (helmet).
Smartphone with iOS 13.6/Android 6 or above
Proof of your right to work self-employed in the uk
Age 18+
Frequently Asked
Questions
How does Famooshed delivery and curbside pickup work?
Famooshed makes it easy to order from your favourite independent local farm shops, bakeries, distillers, brewers, fish merchants, growers, food producers and organic growers. Shop for items from merchants near you, with a selection of retailers and trusted local grocers across the United Kingdom. Famooshed will connect you with local merchants in your area to shop and deliver your order. Contactless delivery is available with our "Leave at my door" option.
You can track your order's progress and communicate with your shopper every step of the way using the Famooshed app or web site. Famooshed also offers curbside pickup from merchants that have selected to provide the service. Simply place your order and choose a pickup time, and a shopper will prepare your order at the store.
When you get to the merchant's store, use the Famooshed app order number to confirm your order. Depending on the store, a shopper or store employee will bring the groceries to your car, or you can pick them up at the designated area.
Famooshed has a delivery boy service that offers delivery via the merchant's own delivery staff or our independent network of delivery drivers that charge a nominal fee based on the distance from the merchant to your location. Using this service for your shopping offers a convenient service that provides a timed delivery option which can be tracked via the mobile app.
How much does Famooshed cost?
Famooshed does not charge any membership fees for access to our network of local and national merchants.
To get started, simply download the mobile app for iOS or Android mobile devices, create an account, select the food or store you want to shop, and place your order. All customers will be eligible for delivery fees if the delivery boy option is chosen, however we might have some free delivery promotions or the store might have its own delivery driver service. Famooshed merchants may also offer the curb side pick in store collection option where customers may choose to collect the goods and at time that can be selected from the merchants outlet.
Delivery Fees are calculated based on the distance of the store to your location. Pickup: There may be a "pickup fee" (equivalent to a delivery fee for pickup orders) on your pick-up order.
Tipping is optional but encouraged for delivery orders. It's a great way to show your delivery driver appreciation and recognition for excellent service. 100% of your tip goes directly to the driver who delivers your order.
Some merchants shipping may offer their produce, food boxes, alcohol or non-perishable goods to shoppers nationally on a next day delivery service via their own preferred delivery partners.
Will I pay the same price on Famooshed as I would in the store?
Retail partners set the prices of items on the Famooshed marketplace. While many merchants offer everyday prices in their stores, some of our partners may set prices on the Famooshed platform that are different from in-store prices.
You can view special offers and product promotions offered by our merchant via banners ads and email promotions via the Famooshed app and website. We may email coupon codes that can be used on the web site checkout.
What happens if there's an issue with my order?
If something isn't right, you've got options. In the Famooshed app or website, you should report:
- Missing items
- Incorrect items
- Damaged items
- Poor replacements
- Early/late orders
If an order never came, or you get someone else's order, you can reach out to Famooshedcustomer care team.
What happens if something is out of stock and I need to give specific instructions?
Famooshed makes it easy to communicate with our merchants via the chat service. When an item you want is out-of-stock at the store, your merchant may offer you and alternative replacement product.
You can set item and delivery instructions in advance, as well as chat directly with your shopper while they shop and deliver your items. You can tell the shopper to:
- Find Best Match: By default, your merchant will use their best judgement to pick a replacement for your item.
- Pick Specific Replacement: You can pick a specific alternative for the shopper to purchase if your first choice is out-of-stock.
- Don't Replace: For items you'd rather not replace, choose "Don't replace" to get a refund if the item is out of stock.
You can update or cancel your order as long as your shopper hasn't started shopping. If you need to make changes after shopping has started, you can use the app or website to approve replacements or chat with your shopper.
Can I get contactless delivery with Famooshed?
The health and safety of our community is our number one priority. We are excited to offer contactless delivery through our Leave at My Door delivery feature.
Leave at My Door delivery gives you the flexibility to have your groceries delivered without having to come to the door or be at home. You can leave delivery instructions for your shopper at checkout, and we'll notify you when your order arrives.
Leave at My Door is now the default setting for all Instacart deliveries via our deliver boy service. If you'd prefer to not use this feature, simply uncheck the box that says "Leave at my door if I'm not around" at checkout.
Customers who order alcoholor certain high-value items may need to show ID upon delivery. We ask shoppers to wear masks whenever they come into contact with our staff and delivery personnel.